Cosmo and Wanda
Bird ID: B2018012
Species: Lovebird
Sex: Unknown
Sub-Species: Dutch Blue
Health Status: Unknown
Good with Kids: Unknown
Well Socialized: Unknown
Adoption Status: Adoption on 2020-05-20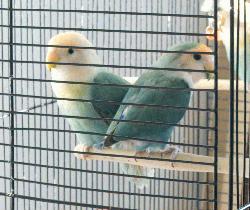 My Sponsors: Sponsor Me!
If you're approved to adopt, click here to email my adoption coordinator.
To learn more about fostering or adopting our birds, please click here.
---
Hello there! We are Cosmo and Wanda and our whole flock hails from the chilly Santa Cruz area. We were surrendered to the shelter after a family emergency and are now living the life with great healthy new foods and an awesome foster who I, Cosmo adores! Yes it is true I the fabulous Cosmo has no tail but I am as cute as can be so don`t let that deter you! I will say Wanda my sibling is pretty dang cute as well :) Our parents are Comet and Bell and even though we have been separated I can still communicate with them which is kinda cool. We will have to check back in later with updates as we are a bit newer and they do not know a whole lot about us, other than I am the most awesomest lovie ever! If you are interested in me or us and not already a Mickaboo member please see the link how to become one so you can meet and hopefully adopt us! If you are a member please contact the lovebird coordinator! Thanks and hang ten! Cosmo and Wanda UPDATE 2/2/19 From the foster....Cosmo/Wanda, wow are these two kids just curious and fun little things. They are crawling around on top of the cage (Cosmo anyway, Wanda is a bit more shy). Cosmo hopped down on my desk and walked around the keyboard a bit. Earlier s/he rode around for a while on my shoulder. When I put him/her back on the cage, s/he went home him/herself. s/He is going to be a fabulous little bird, and I think Wanda will also just watching all the fun she has. (coordinator- I wish I could add more photos to this page because Cosmo is the most adorable little bird Ever!!! Wanda is pretty darn cute as well :) If you are interested I would be happy to share! They are so so cute!) UPDATE 1/2020 Cosmo is great and Wanda now loves to cuddle on her fosters neck! She can not fly due to an old break in the wing but jumps pretty far! She has tamed pretty well and we think she may be the mother not Bell!