Elsie F
Bird ID: C2018029
Species: Parakeet
Sex: Female
Sub-Species: Standard Budgie
Health Status: Healthy
Good with Kids: Unknown
Well Socialized: Unknown
Adoption Status: Foster on 2018-12-13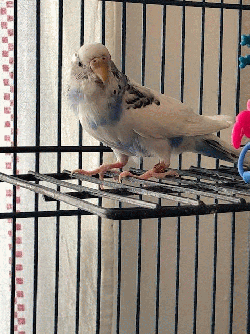 My Sponsors: Sponsor Me!
If you're approved to adopt, click here to email my adoption coordinator.
To learn more about fostering or adopting our birds, please click here.
---
Hi, my name is Elsie. I came to the shelter stuck to a glue trap. Can you imagine that? The nice people used mineral oil to unstick me. Ouch! I lost some feathers in that process, but I am all well now, as you can see in my glamour photo! I`m a stubborn little gal, and when I came to the shelter, I only would eat millet, which of course should only be a treat, not my full diet! In just a week, I graduated from millet to seeds, which is a little better than millet, but still not a great diet! Now she is tricking me by mixing the seeds with pellets. Huh, who knew? Those pellets taste pretty good too! I sure could use a forever home...will YOU be the perfect person for me?