Mikado F
Bird ID: C2018026
Species: Parakeet
Sex: Female
Sub-Species: Standard Budgie
Health Status: Healthy
Good with Kids: Unknown
Well Socialized: Unknown
Adoption Status: Adoption on 2019-11-18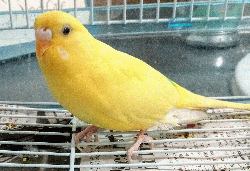 My Sponsors: Sponsor Me!
If you're approved to adopt, click here to email my adoption coordinator.
To learn more about fostering or adopting our birds, please click here.
---
Hi, I`m Mikado. Did you know that is the name of a shade of yellow? I am a vibrant yellow little girl who was surrendered to the shelter by her family. My cage came filled with only seed, so you`ll need to help me transition to a healthier diet. I loved living with a family and I`d be happy to join your flock! What do you think?