Sonny
Bird ID: O2018007
Species: Macaw
Sex: Male
Sub-Species: Blue and Gold
Health Status: Healthy
Good with Kids: Unknown
Well Socialized: Unknown
Adoption Status: Foster on 2020-06-26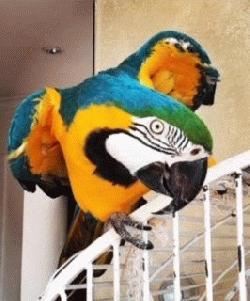 My Sponsors: Sponsor Me!
If you're approved to adopt, click here to email my adoption coordinator.
To learn more about fostering or adopting our birds, please click here.
---
My name is Sonny! I`m an 18-year-old Blue and Gold Macaw. I`ve only had one human for my entire life, but his family had some major changes and knew they couldn`t take proper care of me. So here I am! I am fully feathered, but I can`t fly. My wing was broken when I was 3 and it`s never worked right since. I`m a good eater and I talk a little. I also can sing! I don`t have the prettiest voice, but I love to sing! All in all though, I am on the quieter side for a macaw.