Celine F (& Celeste)
Bird ID: C2018017
Species: Parakeet
Sex: Female
Sub-Species: Standard Budgie
Health Status: Special Needs
Good with Kids: Unknown
Well Socialized: Unknown
Adoption Status: Foster on 2018-11-17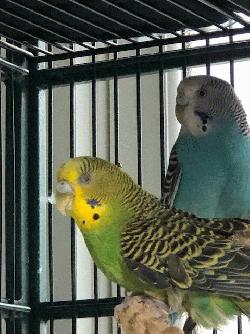 My Sponsors: Sponsor Me!
If you're approved to adopt, click here to email my adoption coordinator.
To learn more about fostering or adopting our birds, please click here.
---
Hi, I`m Celine (the green and yellow budgie) and I came from an outdoor aviary at a senior residence home. I was somehow injured in the cage, and then surrendered to Mickaboo because, sadly, my legs were broken and healed without being set. I cannot walk well, but I can perch and fly just fine! I love hanging with my pal Celeste. We are very bonded, and we spend most of our time perched close together at the top of a boing, just like in the picture. Wouldn`t we be a sweet pair to join YOUR forever home?