Collie M (aviary bird)
Bird ID: C2011177
Species: Parakeet
Sex: Female
Sub-Species: Standard Budgie
Health Status: Healthy
Good with Kids: Unknown
Well Socialized: Unknown
Adoption Status: Foster on 2011-03-18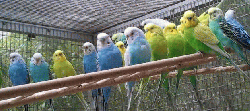 My Sponsors: Sponsor Me!
If you're approved to adopt, click here to email my adoption coordinator.
To learn more about fostering or adopting our birds, please click here.
---
Hi, I`m Collie. I am a beautiful turquoise AVIARY bird with a bright yellow head. I am not human friendly at all. I am part of a flock of budgies who have lived in an aviary most of our lives.. We are all generally healthy but we belong in an aviary flock. If you have an aviary that`s looking for some budgies, I might be just the girl for you!