Jada F
Bird ID: C2018006
Species: Parakeet
Sex: Female
Sub-Species: Standard Budgie
Health Status: Healthy
Good with Kids: Unknown
Well Socialized: Unknown
Adoption Status: Adoption on 2019-10-02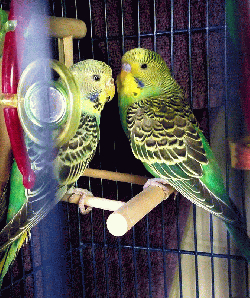 My Sponsors: Sponsor Me!
If you're approved to adopt, click here to email my adoption coordinator.
To learn more about fostering or adopting our birds, please click here.
---
Hi, I`m Jada (at left). I came from the shelter with a young male budgie, Jaden (now adopted!). We were rescued from a neglectful situation along with 20 other animals. Isn`t that sad? Though I came in with mites, I am now healthy & beautiful. I`ve learned to eat fresh greens, carrots, and good-quality pellets. I love being spoken to, listening to music, and playing with other budgies. Wouldn`t I be sweet in your forever home?