April F
Bird ID: C2018003
Species: Parakeet
Sex: Female
Sub-Species: Standard Budgie
Health Status: Healthy
Good with Kids: Unknown
Well Socialized: Unknown
Adoption Status: Adoption on 2019-12-06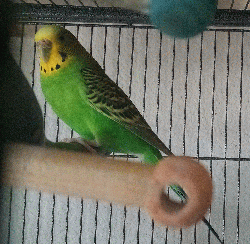 My Sponsors: Sponsor Me!
If you're approved to adopt, click here to email my adoption coordinator.
To learn more about fostering or adopting our birds, please click here.
---
HI, I`m April. I was adopted out from Mickaboo a couple of years ago, but sadly my parent had to let me go, so I am back with Mickaboo and ready to try for a new forever home. I am a spritely little typical girl budgie and I am enjoying being in a cage with several other girl budgies. I am not tame but I am fun to watch and listen to! Would you like to enjoy spending time with me in YOUR forever home?