Mariah
Bird ID: O2018001
Species: Macaw
Sex: Female
Sub-Species: Catalina
Health Status: Healthy
Good with Kids: Yes
Well Socialized: Unknown
Adoption Status: Adoption on 2020-10-17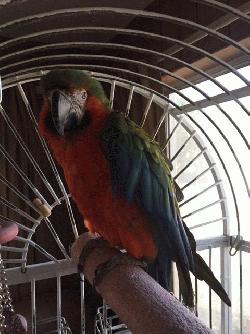 My Sponsors: Sponsor Me!
If you're approved to adopt, click here to email my adoption coordinator.
To learn more about fostering or adopting our birds, please click here.
---
Mariah is a very colorful 18 year old lady macaw. She is a Catalina macaw, which means she`s a hybrid between a blue and gold and a scarlet macaw. Mariah has had a wonderful life with the same family. She was very well cared for and very loved. But her mom had some major changes in her life and was no long able to give Mariah the care and attention she needs. She really loved this big girl, but had to give her up. Mariah`s diet is mostly pellets and fruit, but she does love a treat once in a while. Her foster mom says she is beautiful and she is the type that will be adopted quickly. Mariah is being fostered near Fresno.