Petie
Bird ID: O2017007
Species: Macaw
Sex: Female
Sub-Species: Blue and Gold
Health Status: Healthy
Good with Kids: Unknown
Well Socialized: Unknown
Adoption Status: Foster on 2020-06-26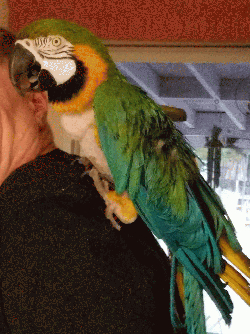 My Sponsors: Sponsor Me!
If you're approved to adopt, click here to email my adoption coordinator.
To learn more about fostering or adopting our birds, please click here.
---
Hello from me, Petie! A sweet 33 year old lady macaw who previously lived with my dad for my whole life. Sadly, due to some family health problems, he could no longer keep me so now Im looking & hoping for another kind, loving and fun person or family to call my very own. I was always told I am a blue and gold macaw, but my foster mom thinks there may be a little military macaw in my background because of the lovely green highlights in my feathers which make me all the more beautiful! Sometimes I can be a little shy when meeting new people, but overall am friendly and have been enjoying hanging around with the other birds and dogs in my foster home.To learn more about me and how we can meet please contact the macaw coordinator .