Gyro
Bird ID: 5648
Species: Amazon
Sex: Unknown
Sub-Species: Blue Fronted
Health Status: Healthy
Good with Children: Unknown
Well Socialized: Unknown
Currently in Foster Care
Sponsor Me!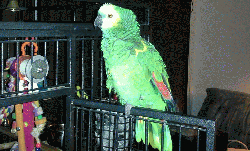 If you're approved to adopt, click here to email my adoption coordinator.
To learn more about fostering or adopting our birds, please click here.
---
I am a beautiful blue front amazon and I`m pretty quiet. In fact, when the other birds get loud, I tell them "Shut up!" in my squeaky bird voice. I usually sing like a cockatiel. When a person does something I don`t like, I yell "No". If you are eating something I want to eat, I make a sound like an air horn. That gets everybody`s attention. I also grunt like a pig. Overall, I`m a sweet little bird looking for someone I can trust. Are you reliable and trustworthy? Maybe we can be friends. Please contact the amazon coordinator if you would like to meet me.