Glitch
Bird ID: H2015003
Species: Conure
Sex: Female
Sub-Species: Dusky
Health Status: Special Needs
Good with Kids: Unknown
Well Socialized: Yes
Adoption Status: Foster on 2015-07-26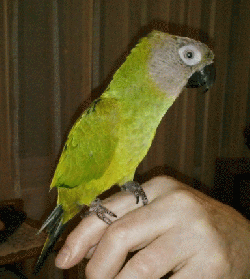 My Sponsors: Sponsor Me!
If you're approved to adopt, click here to email my adoption coordinator.
To learn more about fostering or adopting our birds, please click here.
---
I was surrendered to Mickaboo by a Good Samaritan who bought me from his neighbor (who had kept me in his garage because he didn`t like my voice). I`m in a home now where I can hear lots of other birds, though I don`t talk to them much - I`m rather quiet. I enjoy being with people, getting my headscritches, and exploring the world outside my cage. I`m on a healthy pellet-based diet with the occasional almond sliver. I have a heart murmur - I don`t let that slow me down! I`d love to meet you and your family.