Snowflake F
Bird ID: C2014049
Species: Parakeet
Sex: Female
Sub-Species: Standard Budgie
Health Status: Injured, Recovering
Good with Kids: Unknown
Well Socialized: Unknown
Adoption Status: Foster on 2014-07-06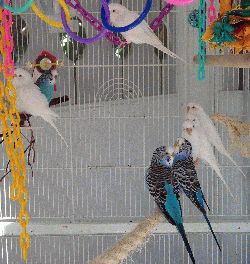 My Sponsors: Sponsor Me!
If you're approved to adopt, click here to email my adoption coordinator.
To learn more about fostering or adopting our birds, please click here.
---
Hello! I`m Snowflake. I live in an aviary with other birds. I do like to eat from hands if I am hungry. If some lucky adopter is willing to spend time with me, I could probably be tamed using food as an incentive. I will sit on your shoulder or hands - but only when eating! I like Nutri-An cakes and leafy green vegetables. I am still reluctant to eat orange veggies, but our foster mom is trying to persuade me to try them, because they are a good source of Vitamin A. I have lost a few toes in an attack, but it doesn`t slow me down! Could I please join your forever home?