Elizabeth F
Bird ID: C2011037
Species: Parakeet
Sex: Female
Sub-Species: Standard Budgie
Health Status: Special Needs
Good with Kids: Unknown
Well Socialized: Unknown
Adoption Status: Foster on 2011-03-18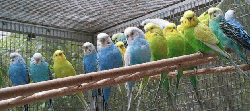 My Sponsors: Sponsor Me!
If you're approved to adopt, click here to email my adoption coordinator.
To learn more about fostering or adopting our birds, please click here.
---
Hi, I`m Elizabeth. I am a very pretty, pale blue budgie with light grey wings. Mickaboo thinks I am the mother of some of the very young budgies that were part of the large flock surrendered to an animal shelter. But that doesn`t mean I`m old! It means that I was allowed to lay eggs & raise babies when I was not much older than a baby myself. As a result, I was very thin and weak when I arrived at a Mickaboo foster home. I have been cared for by one of Mickaboo`s great avian vets & I have regained my strength and weight. I am rather fragile health-wise, and I live in a special-needs cage with some other budgies from my flock who came to Mickaboo with various health problems. If you have the time and attention to give a budgie like me, I would love to hang out at your house (in a special-needs cage) and make happy budgie noises just for you.