Second Annual Quita Memorial Challenge Grant - Dec. 27 update
We have raised so far  $4,448 - more than 10%! - toward our $30,000 fundraising goal! Thank you for your generosity during this season of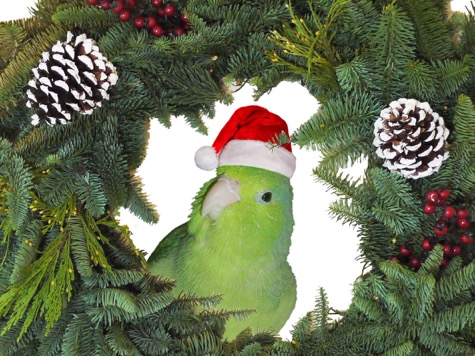 giving - our 450+ foster birds, and the many volunteers who care for them, all appreciate your help. And giving during this Challenge Grant time makes your gift go further!

Pistachio is one of the birds you have helped. He is a wonderful, tame green cheek conure whose upper beak was torn off by another bird, and whose injury caused him to be surrendered to Mickaboo.  He's thriving in foster care, thanks to the medical attention YOUR support helped give him.
Want to help Pistachio and other birds like him before time is up (only 5 more days!)? One may give:
online, with a credit card or check, through Network for Good
online via Mickaboo's website (www.mickaboo.org) - use either of the two "donate" buttons in the left margin
by sending a  check or money order to: Mickaboo, P.O. Box 697, San Jose,  CA 95106-0697
ALL gifts of any size are welcome and are fully tax-deductible! Learn more about this Challenge Grant here.
Stay tuned to this space for another update tomorrow morning!