Artie: A Success Story
By Marguerite Gear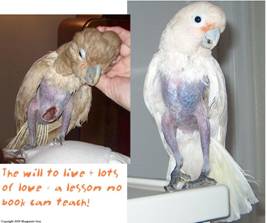 I received a call from Mickaboo in July 2003 about a Goffins Cockatoo who had been delivered to San Francisco Animal Care & Control.  The little bird had apparently been rescued from a home in which she was not well cared for.  She was found in a small cage also containing a cockatiel.  The owner had apparently died in the house several days prior and the birds were left alone until the body was discovered.  She was in such bad shape that the shelter's vet was going to put her down if I didn't get her within the hour. Read More
Be an Angel for One of our Sweet Birds!
By Pamela Lee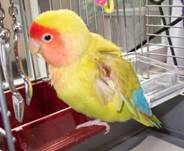 The Angel Program is an important part of the success of Mickaboo.  Please join us and have the satisfaction of helping a needy animal by sponsoring one of our foster birds.  Visit our Angel Page, where you can select the needy bird of your choice.  Read More
Steve Krause Concert Supports Mickaboo!
By Pamela Lee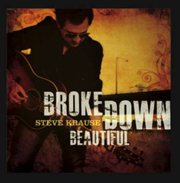 Enjoy great music and support Mickaboo all in one evening! Recording artist Steve Krause has invited all Mickaboo volunteers and supporters to attend his CD Release Celebration and concert on January 15, 2011, at Club Fox – formerly the Little Fox Theatre – in Redwood City. The concert will start at 8:00 p.m. and doors open at 7:00. Tickets are $8 ($10 at the door). Half of every ticket we purchase will go directly into Mickaboo's coffers! 
Go to this webpage for more information and to purchase tickets!
POOPOLOGY: What You Can Learn From "Reading the Paper"
By Louisa Jaskulski, RVT
Photographs by Dr. Chris Sanders, DVM, Wildwood Veterinary Hospital
Birds are "masters of disguise" when it comes to hiding early signs of illness.  Therefore, exterior indicators of health status are very helpful and important.  Bird droppings are one of those critical exterior indicators, in conjunction with clinical signs such as fluffed feathers, energy level, loss of appetite, weight loss, and so forth. Read more
A Greenbean Story
By Ailsa Barrett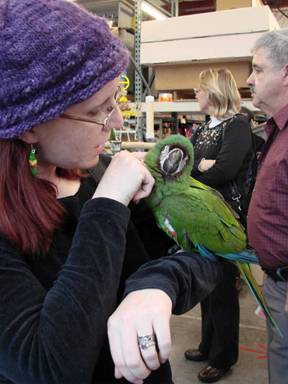 This story celebrates how a lonely bird found its forever place in the heart and home of a Mickaboo volunteer.
The story starts in 2006 with an online parrot forum posting about a Severe Macaw in San Diego needing a home.  Jody wondered who on earth would give away a macaw, and went to check it out.  The bird was living in the garage of a huge house in a high-end gated community.  The cage was so small that he had no room to open his wings, no perches, no toys.  His food (sunflower seeds) was moldy; his water was dirty.  The wife said he was about two years old – the couple had gotten him from a breeder.  She said the bird was messy, and loud, and her husband had demanded the bird live in the garage where he wouldn't bother the family. Read More
Birdie Bookshelf: The Lives and Minds of "Bird People"
By Jonathan Harris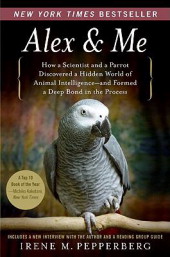 The book being reviewed in this article is:
Irene M. Pepperberg. Alex & Me: How a Scientist and a Parrot Uncovered a Hidden World of Animal Intelligence—and Formed a Deep Bond in the Process. New York, Collins, 2008. vii + 232 pp. Photographs and index. $23.95 Hardcover. ISBN-13: 978-0-06-167247-7
In Mutual Aid: a Factor of Evolution (1902), philosopher Petr Kropotkin said the Grey Parrot's intelligence was so renowned, many naturalists called it the "bird man." So it is not surprising that 75 years later, when a young scientist named Irene Pepperberg wanted to study the cognitive abilities of birds, she chose a member of that species as her subject, naming him "Alex," an acronym for "Avian Learning Experiment." By the 1970s, however, scientists' assessments of birds' intelligence had fallen so far from those of Kropotkin and his contemporaries that when Pepperberg first proposed her method of study (teaching the bird to talk so it could communicate its responses to psychological tests like a human subject), her grant application was sneeringly dismissed in a tone she likens to "What have you been smoking?" Read More
Donor and Sponsor Thanks
By Pamela Lee
Mickaboo Companion Bird Rescue wishes to thank the many corporations and individuals who helped to make our 2010 Holiday Party and Silent Auction a success (our apologies to anyone we may have omitted inadvertently - the amount of last-minute donations was amazing). Click here to see the complete list!
MickaCoo 2010 Review and Thank Yoos and To Doos!
By Elizabeth Young
It is hard to believe that another year has raced by. There is so much to say, so please pardon all that I inadvertently leave out and join me in celebrating just a few of the miracles that MickaCoo has accomplished in 2010, including the placement of 66 pigeons and 23 doves into forever homes!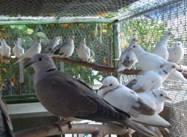 Mickaboo's own Mary Camacho created (including transporting and assembling and modifying) an emergency aviary enabling MickaCoo to rescue 26 domestic ringneck doves that were facing euthanasia at an overfull South Bay shelter. Read More
Mickaboo 2011 Calendar Now Available!
By Pamela Lee
Get your 2011 Calendar, featuring several of Mickaboo's foster and adopted birds, at our Cafepress partner site! A portion of all sales of Mickaboo-branded merchandise benefit your favorite bird rescue organization (and we can sure use it right now!).
Bird of the Month
by The Editor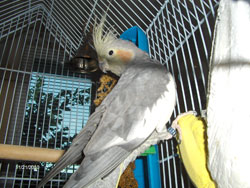 Hi! My name is Puffin and I am a 7 year old Normal Grey girl Cockatiel. My owners recently had to surrender me and I am now in need of a permanent home. I am a good girl who loves to receive attention. I step up for my foster dad and love to sit on his shoulder while he reads his newspaper... and head scritches send me to heaven ...and I don't bite! My only vice is I'm a seed junkie. My dad is trying really hard to get me to eat those pellets and Nutri-An cakes, but the millet is still my first choice. Read More