Harry
Bird ID: 7156
Species: Finch/Canary
Sex: Male
Sub-Species: Canary
Health Status: Healthy
Good with Children: Unknown
Well Socialized: Unknown
Currently in Foster Care
Sponsor Me!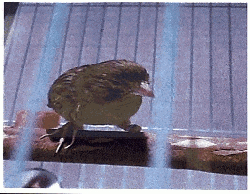 If you're approved to adopt, click here to email my adoption coordinator.
To learn more about fostering or adopting our birds, please click here.
---
Hi, I`m Harry! I came into the San Francisco animal shelter missing a left foot and I was pretty underweight, so they asked Mickaboo to help me out. I don`t really fly anymore - nobody really knows what happened to me, but I sure am glad that Mickaboo found me somewhere safe to stay for now!